A great value library management system designed for schools
James Harrap (PGCE IT) – Libresoft Managing Director
We love the simplicity of the system and it's so quick and easy to get support if you need it!
June Griffiths  – Librarian – Valentine Primary School
A simple to use library system with fantastic customer support at an amazing price!
Liz Foot – School Business Manager – Ashley Infant School
Our students love the new system!
Tracie Brown – Business Manager – Anstey Junior School
It is so quick compared to our previous program!
Jane Skea – Library Co-ordinator – Westdene Primary School
I was really impressed with the Libresoft team. The competitive price and the support package meant that I signed up straight away.
Ian Taylor – Headteacher – Oakwood Primary School
We have absolutely loved our first week with you, I have found the system to be very straightforward to use, the transition was easy and the children have loved the Aussie voice.
Jo Colyer – Westfields Junior School
Affordable pricing
A low annual charge for access to our high-end software & support.
Fully featured
Everything you need from your library system, and some bells & whistles!
Easy to use
Simple to navigate for students and staff. User-friendly, intuitive menus & buttons.
Free set-up (For Primary Phase)
Moving your books, users and current loans across is effortless.
Unparalleled Support
With excellent guides and an experienced support team, you're in safe hands.
GDPR compliant
Cloud-based, hosted in the UK and fully compliant with the new regulations.
Reliable. Intuitive. Responsive.
Get library software with all the time-saving tools you need to manage your library smoothly and effectively.
Borrow & Return
Keep books flowing from reader to reader with ease.
Add & edit books
With our internet look up, any new book can be added quickly and easily.
Reports
Easily generate reports with templates that can be saved.
Search
Find books easily based on title, author, key word and more.
Overdue books
Automatically generated lists and letters for tracking down those missing books.
Add & edit users
Import from your MIS, create manually, edit as required.
Rate & review
Encourage students to rate books and write reviews. Great for engagement.
Voice packs
Choose from 7 different voices to prompt users – other options coming soon!
Lost books
Mark books as lost, and mark them as found if they reappear.
Stock check
Make sure you have all of the books, in the right place when you need them.
Reservations
When a book is not available, you can reserve it for when it comes back.
Display
Feed reviews and news through to a screen for extra involvement.
Twitter: what we've been tweeting about
3 days ago
Libresoft wishes you all a very Merry Christmas! https://t.co/i22qjPmKaW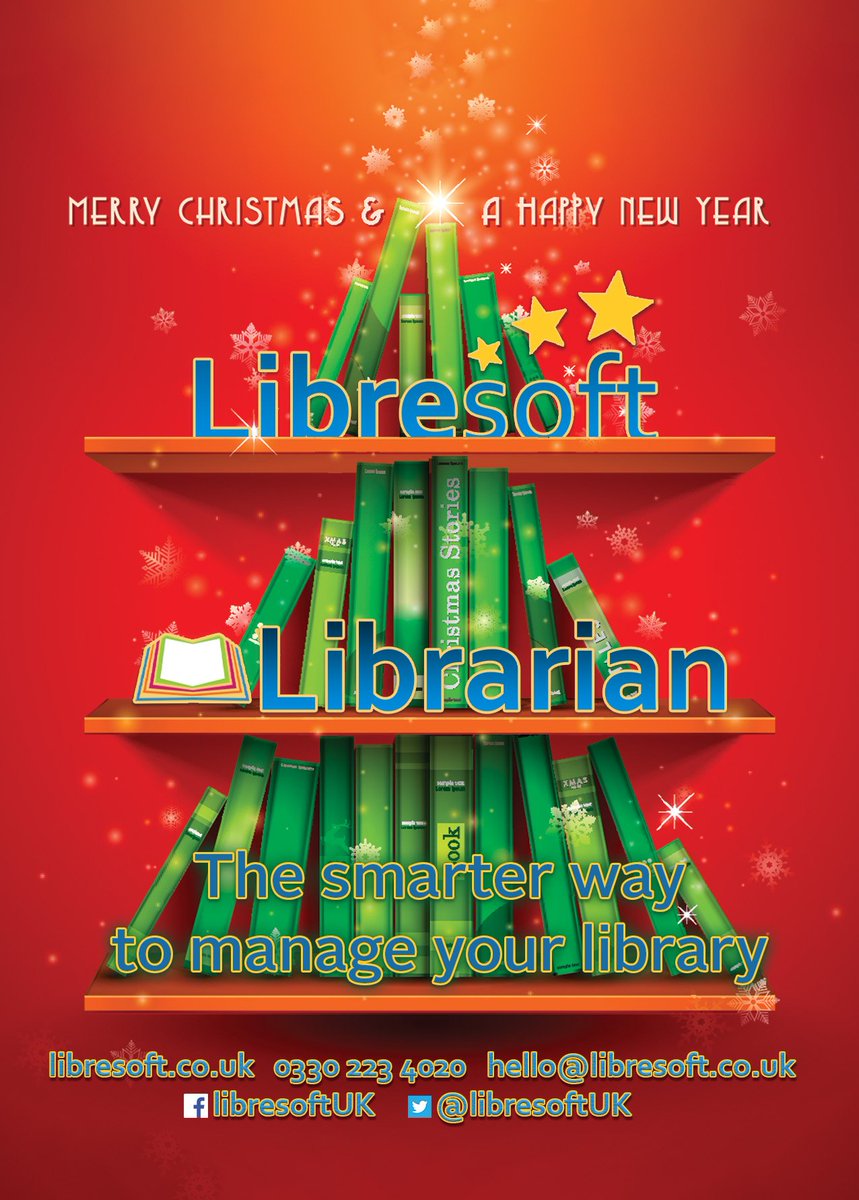 2 weeks ago
Every month, BookTrust reviews loads of children and teenager books and put together a reading list. Click here to see which books were selected for December.

https://t.co/4TeTt86IEf